This shop has been compensated by Collective Bias, Inc. and its advertiser. All opinions are mine alone. #SkinEssentials #CollectiveBias
Y'all, we need to seriously have a conversation about those dreaded sleep-shortening, alarm-clock-spamming 8a.m. classes because, let me tell you, I've had 8.m. classes since my freshman year and they were basically the bane of my existence. Even though I was very used to waking up early because that's what I did in high school, it was still difficult to deal with early morning classes because when you live on campus, there are so many things going on, and you may not have control over all of them. Even if you commute to campus, you'll have a lot going on!
The biggest issue I (and most other students) have with early morning classes—you know, besides waking up for them—is being able to complete my morning routine before running out the door so I can feel confident and alert for the entire day. I mean, if you wake up at 7:40 for an 8a.m. class, you might not be able to take that long, hot shower, blow dry your hair, stand in front of the closet for ages to pick the perfect outfit, eat breakfast, and still make it to class in time.
I know, I know, that sounds super stressful. Buuut, through a ton of trial and error, times of accidentally sleeping in, and moments of getting up and at 'em with a smile, I've come up with the best ways to prepare for early morning college classes so you can saunter through the lecture hall feeling fresh and ready for the day, and not feeling like you'd much rather go back to bed. Plus, I'm going to share deets on how you can use three of my favorite products (shown below) to get morning-class-ready (psst! You can hover over the images to purchase the products—pretty cool, huh?).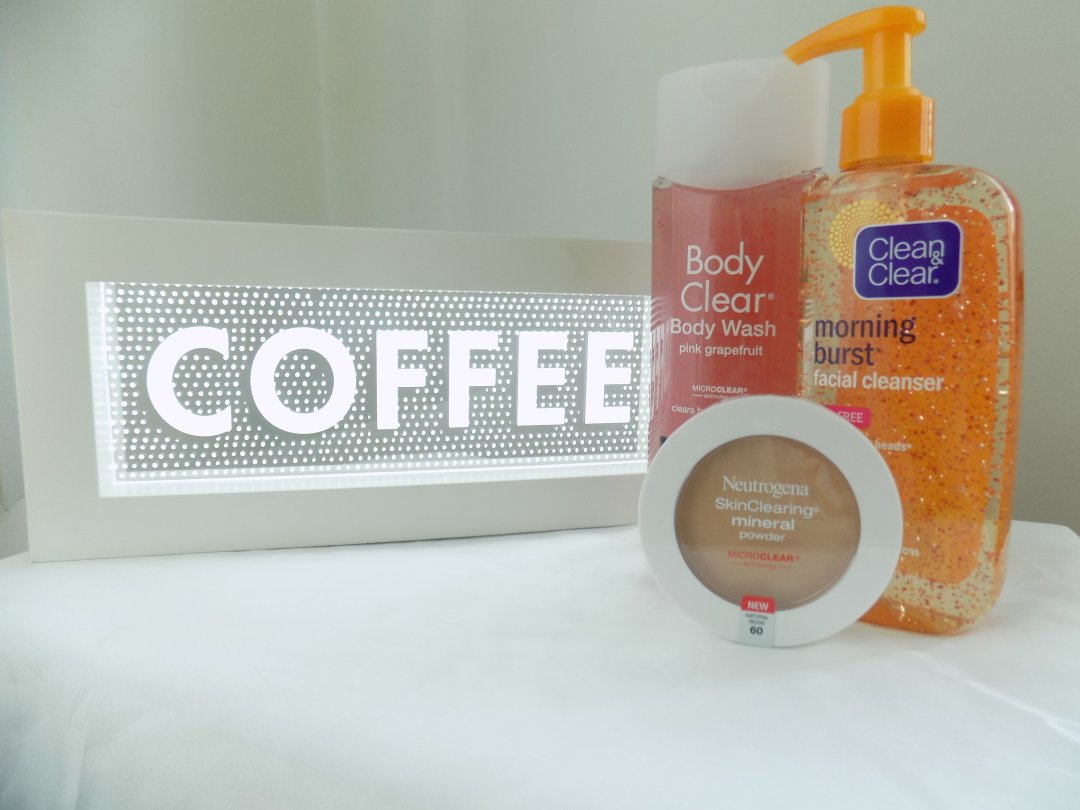 The night before…
1. Shower, and get to bed as early as possible.
I usually shower in the morning, but last semester when my schedule got insanely busy and I started sleeping later and later, I found great value in showering the night before an early morning class. If you're going to bed really late, shower at night so you can save yourself an extra half hour of sleep in the morning—you'll still feel fresh and clean, and less tired! Better yet, indulge in an invigorating body wash when you shower to boost your mood and relax. The Neutrogena® Body Clear® Body Wash – Pink Grapefruit is absolutely delicious smelling and really pampers the skin while you shower, so you don't have to do any extra work to treat yourself (because let's face it, you totally deserve it!). If you do decide to shower in the morning instead of at night, the pink grapefruit scent is so insanely uplifting, you'll feel so relaxed that you'll probably forget the dread of 8a.m. classes.
Now I, like many others, have had my share of bacne (back acne) so I know what it's like to not feel confident enough to wear cute spaghetti straps in public (and God forbid  your crush sits behind you in lecture!). But obvs, there's no time for worrying about how to treat that because hello, early morning English class. So, the Salicylic Acid paired with MicroClear® Technology (sound familiar?) takes care of that for you. And if you want something that's oil-free and leaves your skin feeling soft and smooth, this is the body wash for you.
2. Lay out your outfit.
I used to do this in high school so I wouldn't have to think about what I wanted to wear in the morning, and it saved me SO much time. I still do this because I know myself well enough to know that I will stand in front of my closet for 20 minutes just figuring out what I want to wear—trying on outfits and changing my mind constantly, and that takes up way too much precious time. Check the weather the night before so you have an idea of what would be appropriate. Lay everything out on the back of your desk chair, so when you wake up, you can just pull on your clothes and be ready to go without even batting a fabulous eyelash.
3. Pack your backpack with the day's essentials.
I always tell myself to remember to put certain books and materials in my backpack for class the next day, except I'm usually too lazy or too tired to do it the night before but I'm so confident I'll remember in the morning. Guess what I almost always forget to do…
Remembering to pack your bag in advanced will save you so much struggle in the morning, especially if you forget something crucial and have to turn back and go get it. You guys, learn from my mistakes and don't be lazy!
Related: 9 Must-Have School Supplies You Actually Need For College
In the morning…
4. Wake yourself up by simply washing your face.
Throw some water on your face to get the sleep out of your eyes! I'm a huge skincare buff because I've struggled with my skin for years, so washing my face in the morning is non-negotiable for me. Using the Clean & Clear® Morning Burst® Facial Cleanser has greatly improved the look of my skin by fighting off breakouts, so I don't need to worry about taking extra time to apply any acne creams before class (phew!). And you guys, IT SMELLS SO GOOD. It has a beautiful citrus scent that makes you feel like you're biting into a fruit salad, and if this doesn't wake you up, I don't know what will! It's packed with Vitamin C and Ginseng (how exotic!) to leave your skin feeling fresh. And there are these super tiny BURSTING BEADS® that really get deep into your pores to clean your skin. So basically it's a win-win-win.
I wet my face thoroughly after brushing my teeth, and then I use just one pump because a little goes a long way. I really appreciate that this bottle is a pump because I can get product out with literally just one hand, and it's mess-free. As I worked the product in, it left a cooling sensation on my face, which I really enjoyed because it made me feel more awake—perfect for getting you energized to pay attention in class! Definitely give it a go if you've never tried it before, especially since at Target, you can buy one Clean & Clear® product and get the second one for 25% off.
Related: The Collegiate's Ultimate Guide To Skin Care
5. Have a bottle of ice cold water, not coffee.
Iced water is the first thing I drink every morning, and it really helps re-hydrate me, and because it's so cold, it also wakes me up. I know you may be tempted to reach for a cup of coffee, but consider water first. Heck, take the bottle with you and sip on your way to class. Have the coffee afterward if you want. And lots of people don't know this but coffee always takes 2-3 hours to kick in after you drink it, so you actually don't feel instantly awake!
6. Shorten your makeup routine by using multi-purpose makeup.
I know layering on products in the morning can be super annoying and time consuming because you have to wait for each product to dry completely before applying the next, and when you've got an 8a.m. that you're already late for, you just don't want to deal with that. But if you're like me and refuse to leave the room without a poreless face and gigantic lashes, consider makeup that can kill two birds with one stone. And if those two birds go by the names of breakouts and foundation, you're actually in luck.
The Neutrogena® SkinClearing Mineral Powder fights your breakouts using that same wonderful MicroClear® Technology, and it gives you enough coverage for the smooth makeup look beauty junkies crave. Basically, you're taking care of zits and your love for makeup with just one product—no waiting for anything to dry, so you can get out of the room quicker! And between you and me, this powder is oil-free (anyone else have really oily skin???) and it unclogs your pores to prevent future breakouts!
I got mine in the shade Natural Biege 60, and it suits my skin tone perfectly. The coverage is buildable enough that I can easily hide any acne marks, so I would definitely feel comfortable using this alone (and I DON'T say this about every powder I try!!!). So if breakouts concern you, this product is perfect for getting you out the door and to your class presentations with confidence! In case you were wondering, I got all of these products at Target (God bless that place), and if you stop in this weekend Thursday-Sunday, you can get 20% off your Neutrogena® Cosmetics products (YASSS!). And if you're a fan of skincare products, you can grab a $5 gift card when you buy ~3~ Neutrogena® facial skincare products.
7. Eat breakfast!
Come on, guys—it's the most important meal of the day! I know in college you likely won't make a luxurious continental breakfast out of your dorm room, but one trick that has help keep me fueled in the morning is preparing my breakfast ahead of time for the entire week and freezing it. So all I need to do is heat it up and enjoy! It's basically meal prepping but just for breakfast, so breakfast prepping! Try it out with your favorite breakfast burrito—you'll thank yourself when you're in class and your stomach isn't yelling at you.
I hope these tips will help you conquer those morning classes! And to help you conquer your bank account, save money at Target with great August deals on Neutrogena® cosmetics by downloading CARTWHEEL for your phone. Be sure to snag 20% off Neutrogena® Cosmetics every weekend in August, Thursday-Sunday, on the app!
What are your tips for early morning class prep? Did you have a class you actually enjoyed waking up early for? 
This post is sponsored by CLEAN & CLEAR® and NEUTROGENA®. I only recommend products I use personally and believe my followers will also enjoy! Some of the products mentioned were provided by CLEAN & CLEAR® and NEUTROGENA® for this review